Jakarta International Stadium: A CurrentWindtech Project
Posted on 06 March 2020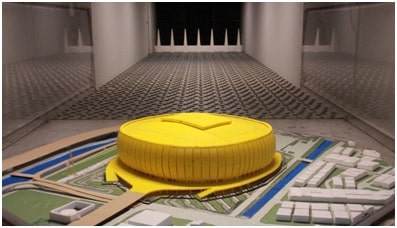 Windtech is partnering with the Jakarta government to deliver a brand-new, multi-function stadium named Jakarta International Stadium that can host around 82,000 spectators. The stadium will be incredibly luxurious, with facilities comparable to those at Manchester United's Old Trafford stadium and Real Madrid's Santiago Bernabeu stadium. Features include perforated external panels and two moving panels on the roof which can be open or closed to suit the different events.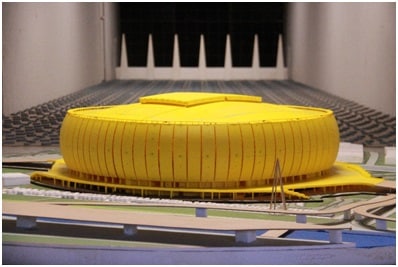 Prior to wind tunnel testing, a detailed wind tunnel model was carefully replicated at 1:300 scale using the latest 3D printing technology to ensure accurate modelling of the small gaps between the wall cladding and to properly model the flow regime around the curved façade.
The model was carefully instrumented with to enable testing for both the 'open-roof' and the 'closed-roof' configurations. The testing was then carried out in one of Windtech's three state-of-the-art wind tunnels to estimate the design wind pressures distributed across the light-weight structure elements.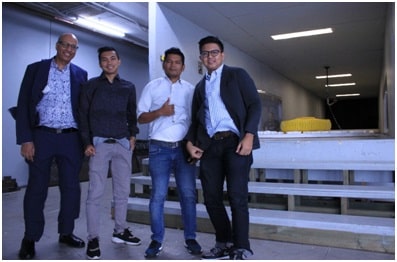 Windtechalso undertook a full pedestrian wind comfort study, assessing the microclimate for the important outdoor areas such as the playing field and the seating bowl. In this study, hot wire anemometry, which is proven to be the most accurate method for data collection, will first be used to collect data on the local wind speeds at various locations in and around the stadium. These wind speeds will then be compared against Lawson's comfort criteria to provide information on the suitability of each area for its chosen use or activity.
Subsequently, this wind speed data was used to calibrate the computational fluid dynamics simulation and combined with a seasonal analysis of the local climate including temperature to provide the project team with a more complete understanding of the spectators' overall comfort. This hybrid approach of combining CFD with results from wind tunnel testing not only offers a robust analysis of thermal comfort, wind comfort, natural ventilation performance as well as suitability of wind conditions for the hybrid turf proposed for the arena, the first of its kind in Indonesia.
Return to Main News Page